We have two kinds of cute and cuddly here at Coulee Country Kennel, Golden Retrievers and Golden Doodles. No matter which one you choose you can be sure that you'll be getting a great dog. Every puppy that we raise is healthy, energetic and ready to give you and your family lots of love and affection.
Be sure to check out our Five Paw Proud page for information on what it means to be a Coulee Country Kennel "graduate".
Select a breed below to view our latest litter of puppies. Be warned... they are cute!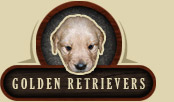 As always, if you have any questions about our dogs, breeding practices, prices or info on delivery to Seattle, Spokane or points beyond, please don't hesitate to contact us. We promise we won't bite!